I planted my healthy little chrysanthemum dividends in the center of my yard in June. I watered them every other day and fertilized once a week. Side shoots were starting to appear. They were growing strong! Then, one day, they were nothing but sticks. Something had eaten every last leaf. Rabbits, insects, woodchuck?
I cycled through the stages of grief, frustration and anger fairly quickly and came up with a plan. I would dig them up while the roots were still strong and put them in a planter on my deck. The rabbits and woodchucks don't usually come up there, especially this year with everyone home and the increased human and doggie activity outside.
Here they are in their new home, sad-looking stems and roots. This is July 10th.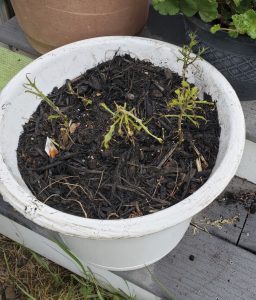 I upped the fertilizer (MiracleGro) to twice a week. They thrived! Here they are just about a month later. I allowed myself to hope for flowers.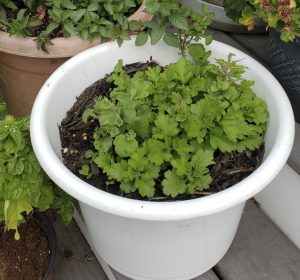 Even though they were crowded in that pot, I didn't dare attempt any transplanting. Nor did I cut back any growth. I figured they had suffered enough of that already.
The flowers came late and they took forever to open. It was the last week of October for those yellow ones to fully open up. And then it snowed. So what? They performed well enough to win 2nd place in our fun little contest! Cheers to next year.

By Member Perry Goldstein