March Meeting: Edible Landscapes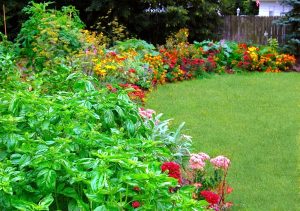 Our March program focused on creating beautiful and productive edible landscapes. Adam talked about soil, the benefits of finish compost, sun, water, different types of edible fruits and plants and his approach to designing edible landscapes.
Presented by Adam Gray Monroy. Adam has 17 years of experience in landscape design and building, and has worked with HomeHarvest Edible Landscapes & Construction for five seasons, happily exploring the integration of edible components into typical urban and suburban landscapes. He enjoys the challenges of building these spaces and the benefits of working with such a fun team. His fields of study include horticulture, sustainable agriculture, and landscape architecture.
A few photos courtesy of member Ted Colburn: