New Members Meet and Greet
Members new and old are invited to gather for a Gardeners Exchange "Meet and Greet" at Bev's home in Shirley on Saturday June 3 at 10:30am to 12:30pm. This will be a relaxed garden get together for welcoming our new members and getting to know each other.
Light snacks and beverages will be provided. BYO wine welcome of course! This event will take place rain or shine so be sure to dress for the weather. And bring a chair if you think you'll need to rest your feet.
Touring Bev's Gardens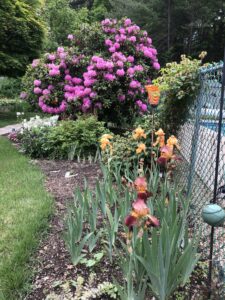 The big attraction for this tour will be the numerous iris beds which consist of over 1,000 iris with hundreds of different varieties in bloom. In addition to the iris many other plants including roses, peonies, azaleas, and a rhododendron will be in bloom.
Look for location details in the event reminder email. Hope to see you there on June 3rd!