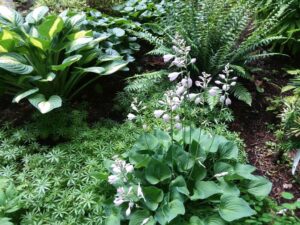 We'll visit the Tice/Paulding property where Janet has been diligently planting, replanting, transplanting, expanding, etc. in the ongoing pursuit of the woodland garden of her dreams. As she describes it:
"Although we've lived here since 1985, I didn't begin gardening until about 15 years ago. Since I had no gardening background whatsoever, the Gardeners Exchange has been a great help over the years. In fact, much of what I've learned has come from our presenters and fellow members. The rest has come from hands on experimentation, finding out – through trial and error – what works and what doesn't. Shade-tolerant shrubs and hand-built stone walls provide the garden backbone. Hostas, astilbes, ferns, sweet woodruff, woodland phlox and Solomon's seal predominate in the shade with day lilies, peonies, garden phlox, salvia, baptisia and an assortment of sun-loving perennials in the few areas that get at least four hours of sun. The end result – still a work in progress – is a shaded, woodland garden with an emphasis on foliage rather than flowers."
This event also includes our Spring Plant Swap.