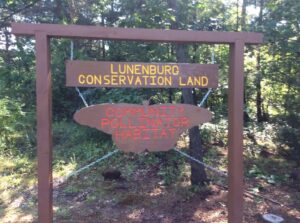 Our August meeting is at the Lunenburg Community Pollinator Habitat. The Lunenburg Community Pollinator Habitat is located in a charming field on town conservation land at 123 Hollis Road, with the entrance directly across from Eastern Avenue.
Native trees, shrubs, and wildflowers have been planted to sustain our local pollinators, which are in dire need of support. A dedicated group of volunteers is responsible for maintaining the property.
Ginny Albertson knew she had to do something to contribute to the "Save the Pollinators" movement. So in early 2016 she approached her town conservation commission with a plan, and to her delight they recognized the need for this project. They granted her the use of conservation land and continue to be supportive every step of the way.
This 2.5-acre habitat is being repopulated with native plants to support pollinator populations, including hummingbirds, many different butterflies, native bees and moths.
Plants are mixed together with host and nectar plants for each type of pollinator species.
Ginny and other volunteers will walk us through the habitat pointing out host plants on which butterflies and moths lay their eggs, and nectar plants from which the adult pollinators feed. We will also learn which plants are best suited to support our native bees with nectar and pollen.
Come prepared for some uneven terrain, and tick and sun exposure. There are no restrooms and parking is limited, so we encourage carpooling and parking along Eastern Avenue, if the parking area becomes full.