Ready for a new gardening year?
The Gardeners Exchange Program Team has put together a great schedule of events for the new year! Thanks to all who provided ideas and input.
This year our meetings fall on Saturdays except for our Potluck in October which, pandemic permitting, will be on a Sunday. As always, please pay close attention to the dates and to the monthly email reminders. The website calendar will be updated as we finalize the events.
This is a preliminary look at our 2021 events. Details will be provided prior to each meeting.
Preliminary 2021 Program Schedule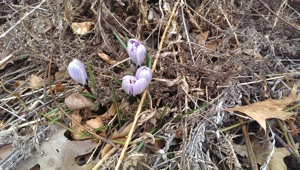 Our first meeting of 2021 will take place online on Saturday, February 27 from 10:30am to 12:00pm. The topic is "Gardens of New England". Author of The Garden Tourist's New England, Jana will show us some of her favorite garden destinations.
Our seed swap will be done with online ordering and several pickup dates and locations to be announced. Watch for email with the details.
Our Saturday, March 20th meeting from 10:30am to 12:00pm will be online. The topic is "Native Plants and Pollinators". Creative cultivator and designer Deanna Jayne presents intentional gardening, with a focus on attracting pollinators using plants from our ecological region.
On April 17th, we will have a guided tour at Tower Hill Botanic Gardens from 10:30am to 12:30pm. We hope to see daffodils in bloom. This event is for GEX members only.
For May 15th, we'll have a Guided by Joseph Bruso at Boulderwoods. Tour 4 acres of blooming rhodys and magnolias, and hear about creative ways to use them in your landscape.
Our dividend distribution details are being finalized and will be announced in a future email.
June 19th will be a members' garden tour at Janet's house from 10:30am to 12:30pm. This event will also feature our Spring Plant Swap.
July 17th is a members' garden tour at Lucy and John's. 10:30am to 12:30pm. This event includes our Container Contest and our Summer Potluck.
August 21st will be a guided tour of the Lunenberg Pollinator Habitat from 10:30am to 12:30pm. Visit an oasis of summer field flowers for the butterflies and bees.
September 18th is a presentation on "Putting the Garden to Bed" by Suzanne Mahler at the Hazen Library (pandemic permitting) from 10:30am to 12:30pm. This event also includes our Fall Plant Swap.
We'll wrap up the year with our Fall Potluck at Center Town Hall in Shirley on October 17th (pandemic permitting).