Perry, Bob, Cindy and Rae have put together our fall dividends to be distributed at the potluck dinner meeting.
Here is their description:
Gardeners Exchange Fall Dividends – 2018
We hope these bulbs give you a beautiful display of showy pastel shades of pink and blue in April!
We purchased the bulbs from Van Engelen, Inc., a Connecticut wholesale distributor of Dutch bulbs. Their website is http://www.vanengelen.com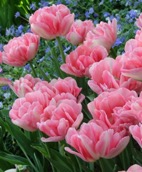 Tulip 'Foxtrot'
This is a scented award-winning double early tulip, blooming in mid-April and growing to 12"-14". The large blooms have slightly ruffled edges. The color is a combination of deep rose, light pink, and white.
You have 5 of these large healthy bulbs! The label said plant full to part sun.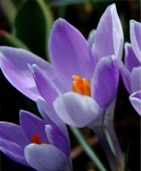 Large Dutch Flowering Crocus 'vernus Vanguard'
"Appearing artfully two-toned in the garden, Vanguard has six-petaled, soft gray-blue flowers interspersed with light purple petals, orange anthers and grass-like foliage with narrow, median silver-white stripes."
The flowers are 5" tall. They bloom in April, so hopefully at the same time as the Foxtrot tulips. The bulbs are the smaller ones in your bag. Everyone gets 8 of them! Plant in a location with full to part sun.