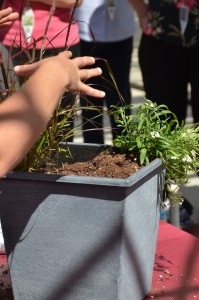 Would you like to win a $50 Weston Nurseries gift card? The Gardeners Exchange 2015 Container Contest is right around the corner!
Judging will be held during our August 15th meeting "Herbs: How to Grow & Use" which will be held at the Hillside School in Marlboro.
If you would like to enter the contest, now is the time to get started!
Here are a few helpful hints for you:
Our theme for the year is "edible flowers and herbs."  If you'd like to design your container around our theme that would be great – but isn't required.
One winner will be chosen in each of the following categories:

Most edible (use of herbs and / or edible flowers)
Most colorful
Most unique

Valuable prizes will be awarded for entries that get the most votes.  Everyone gets to vote on their favorites via secret ballot.
You will want to start thinking about your design soon so that you can find a good selection of plants at local nurseries.  If you wait until August, there won't be many left!
Don't make your container too big and heavy – you will need to get it into your car to bring it to the meeting.
For ideas and help with your "Thrill, Fill and Spill" plant selections, try this google search: https://www.google.com/webhp?hl=en#hl=en&q=thrill+spill+fill