On July 16, 2022 we met in Shirley for an informative lesson on foraging wild edibles, our annual container contest and our summer potluck.
The food brought to the potluck by various members was delicious! Thanks to Lela for not only bringing a dish to share but also the tables, plates, silverware and tablecloths.
Congratulations to Debra, Perry and Judith on winning the container contest!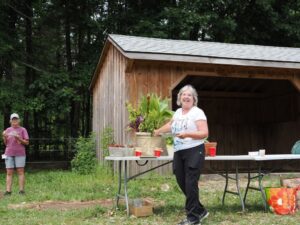 Tim Swanson from Owl Eyes Wilderness Survival led us on a walk around the field and taught us about a surprisingly large number of useful wild plants. Most had high nutritional value and a few had other properties like preventing poison ivy rash.
Can you identify the plants in these photos and which are edible?
Click the first photo to view as a slideshow then use the arrow keys on your keyboard, the onscreen arrows with your mouse or swipe your touchscreen to move through the slides.