Our Gardeners Exchange meeting on Saturday, April 23 will feature a not-to-be-missed presentation on a topic of vital importance for all gardeners: healthy soil. After all, the soil is where all gardens begin! In addition to the presentation, spring dividends will be distributed at the end of the meeting (see below for details). As always, light refreshments will be served.
We are charging $5 at the door for this special presentation to help defray the costs of all of our 2016 programs.
This is a 1hr 45min program – so be sure to come on time, get your refreshments, and grab a seat.
"Healthy Soils = Healthy Gardens"
Ben Barkan, HomeHarvest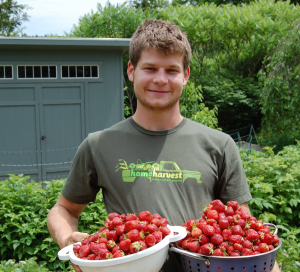 Ben will discuss soil properties such as pH, plant nutrients, organic matter, soil testing and analysis, and how to respond to soil contamination. These basic concepts are important for all gardeners to understand, whether they grow perennials, annuals, edibles or all three. Learn how to develop and maintain soil that produces thriving, colorful perennials or bumper crops of nutrient dense produce. This intensive soil health presentation is suited for anyone interested in growing perennials, annuals or edibles while using sustainable, organic practices.
Inspired by working on more than 30 organic farms in New England, California, Oregon, Hawaii, New Zealand, and Australia, Ben founded HomeHarvest in 2008 with just a bicycle and shovel. Based out of Arlington and Lexington, HomeHarvest now has several company trucks, eight full time employees, and over 400 edible gardens installed throughout Boston and its suburbs. Ben has a degree in sustainable agriculture and is permaculture-design certified and is a popular speaker throughout our region.
Note: This is a special, intensive one-hour and 45-minute program, so be sure to come on time, get your refreshments, and grab a seat. You won't be disappointed!
Spring Dividends
The meeting will conclude with distribution of spring dividends, one of the most popular benefits of Gardeners Exchange membership. Each member will take home three perennials hardy in our zone. Extras will be available for purchase so be sure to bring cash or check if you think you might be interested. If you won't be at the meeting, please make arrangements for another member to pick up your dividends for you. Thank you!
Membership Cards
Gardeners Exchange membership cards will be available at the meeting. If you didn't get yours last month, be sure to pick it up when you arrive at the meeting. Always show your membership card when you make plant purchases at local nurseries – it may entitle you to a 10 or 15 percent discount.